You Cannot Afford to Lay Back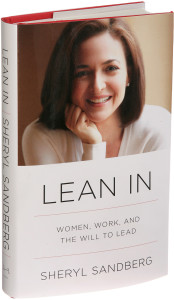 An initial reaction when you see a book about women's leadership written by the COO of one of the highest profile companies in the world might be, well that's easy for her to say.
To be honest that thought crossed my mind about Sheryl Sandberg and her book Lean In – Women, Work and the Will to Lead.
However in reading this hybrid of biography, lessons learned and sound advice that feeling disappears quickly.
Being a woman leader today is still tough. No question.
In her book Sheryl Sandberg certainly does not sugar coat the cost of being a successful and engaged leader and the desire to be a supportive partner and loving and attentive mother.
She openly shares the angst, anguish and anger she has encountered through a highly successful climb, not up the corporate ladder, but as she describes it "work is now a jungle gym" and sagely advises that "no-one wears a tiara on a jungle gym".
She is a strong believed and supporter of the role of men in this equation. The need to have support, and ideally as many men seeing being a stay at home Dad have equal merit to a corporate career. That is for sure going to take time but it does not mean it's not possible.
The key messages from the book though are about women not being afraid to 'Lean In', to set the ground rules or at least to work on their terms not those imposed or traditionally expected. To tear down external barriers.
And once in those leadership roles to finally eliminate those external barriers to get other women in to those roles. Men can play a role in this too.
The book started a conversation. It spoke much more openly about this topic than perhaps any book or movement before it. An extension from the book has been the creation of a not-for-profit Lean In organization to encourage a continuation of the conversation.
Men and women need to read this book and then continue the conversation too.
Most of us are blessed to be in a culture and society where striving for recognized equality is permitted. Many are not so fortunate. That makes it even more important for all of us to be working toward that equality.
A great passage in the book summed it and the ability to be the personal brand you want to be this way;
" Many people are not interested in acquiring power, not because they lack ambition, but because they are living their lives as they desire.; Some of the most important contributions to our world are made by caring for one person at a time. We each have to chart our own unique course and define which goals fit our lives, values and dreams."