Are you a rebellious professional ?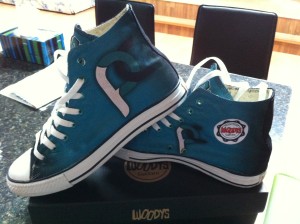 One of my favourite companies is Converse (if you have seen me present you will know why!!), they seek 'rebellious professionals, all the time, to join their team.
I am looking for much of the same in my clients – is this YOU?
 independent enough not to want to follow.

ready to take a stand, or more likely you already have.

not afraid to stand out.

are the rebel for the right reasons.
The world of work has changed, forever. Self-employment, freelancing and contracting are considered normal.  Traditional career management and job search approaches are broken. After all, who solely relies today on a document that was first used over 500 years ago, to represent themselves in an age where someone can find you and most of your experience with a click?
But that is what the vast majority of executives, service professionals and even the self-employed are doing by offering a resume or online chronological profile as their lead career marketing document, a piece first used by Da Vinci in 1482!
Change is Constant
30 years ago you were told that your career would be spent with one company from leaving school to retirement……now your career is spent with numerous companies, more than likely in more than one industry or is not with an employer at all.
20 years ago you were told that the biggest challenge in the 21st century would be what to do with your leisure time….now your challenge is maintaining a successful business or career and a work life balance.
10 years ago you were told that we were entering a long period of prosperity and unlimited opportunity…..now our economies are just recovering, employee engagement is at all-time lows and people are seeking alternatives.
5 years ago you were told due to the retiring boomer generation the shortage for talent would be so great that you could name your price and work conditions…….now offshoring is common and imported talent is the norm. Long term unemployment, reduced benefits and slowed career progression, especially for the younger generation is a stark reality, as is delayed retirement for many.
"If your job can be done faster by a machine or software or cheaper somewhere else in the world then you need to differentiate or that job will not exist" – Dan Pink, A Whole New Mind

Students in the first year of a science or technology program in most Universities will find that by the time they graduate 25% of what they learnt in year 1 is already obsolete or revised.
The elementary or pre-schoolers of today will have careers that will span four different functions and industries, an average of 19 employers and 70% of the jobs they will end up doing are yet to be developed.
Several surveys have found that the average executive can now expect to be looking for a new opportunity every 3-5 years and be made redundant at least 2 or 3 times in the career. At certain times the average tenure of a Chief Marketing Officer in a Fortune 500 company in the United States has been as little as 23 months, an average of 48 – that's often not even time to see the results of a 3 year plan!
Global costs and technological advancements have completely changed the landscape of work and business as we know it – forever. Everything is geared toward cheaper, faster, simpler.
Now individuals do not want to be part of that commoditized culture, they are craving recognition and have a stronger desire to know what they are doing is making a difference.
"Unless you give motivated people something to believe in, something bigger than their job to work toward, they will motivate themselves to find a new job and you'll be stuck with whoever's left."       

                                           Simon Sinek, Start With Why  
There is one thing that we can all be certain of over the next 5, 10, 20 and 30 years – the world and how our careers are defined will be in constant change. You cannot necessarily predict where the world will be or where, after all Google was only founded in 1998, Facebook in 2004 and the first iPad was released in 2010.
You can take greater control of your position in it and define your success.
BUT you will not find that control and success from repeating what has been done in the past, the track record of career predictions sucks, you know it. You want to be noticed and appreciated for the skills and abilities that excite and engage you. And you want to be YOU!
"If you need to conceal your true nature to get in the door, understand that you'll probably have to conceal your true nature to keep that job."    Seth Godin, Linchpin   

Wouldn't be great to have a plan and action steps that get you there?
To know when an opportunity is right for you and equally important identify when it's a wrong move.
To have reference points that keep you focused in the right direction.
To be able to tell others about your skills and strengths in a way that feels natural to you and doesn't come across as pushy or bragging
To develop equally compelling career or business marketing documents rather than rely on the boring old resume or tri-fold brochure?
You are certainly not alone. This feeling is not unusual, in fact many successful professionals have been able to advance on the fast track because of their technical skills. But now this rapid rise is slowing or they realise it's not what they want in the future. This is happening for a number of reasons, not just the economy and uncertainty with the new world of work, but also because the people they have to influence fall outside of their immediate network, area of expertise and comfort areas.
Suddenly it's not so easy to be recognized by those who are making the decisions and reaching out to them and getting noticed requires a whole new understanding and set of skills.
In our research in working with top performers we have identified four key actions that you must take;
-       Align your strengths and skills with your aspirations.
-       Connect with decision makers in ways your competitors or peers cannot.
-       Communicate your unique personal brand and leadership value.
-       Leverage technology and social media to get you noticed.
What we have also found is that those who are willing to reveal more of what we call their Rebel Voice™ are more likely to achieve the goals and results they seek and do it faster. They are what we call Rebellious Professionals.
We help you master a unique process that sets a path to your ultimate goal.  To appreciate your Rebel Voice ™. To feel comfortable communicating authentically and know it won't limit opportunity but increase it. 
Read more on the Rebel Voice ™ Formula- CLICK HERE